Choke Creek Trail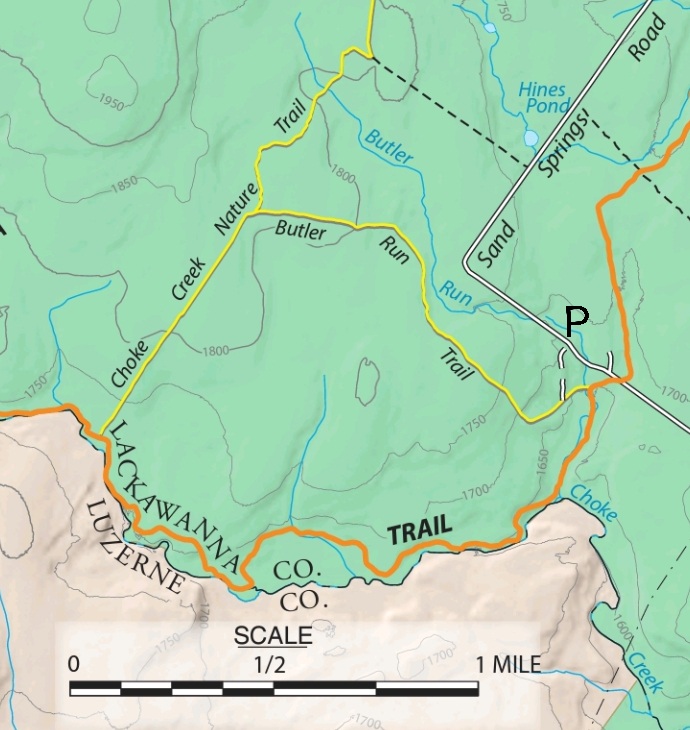 This is a 4.2 mile loop in the Thornhurst Tract of the Pinchot State Forest that makes a great day hike, as it goes through some interesting and varied scenery consisting of deciduous and coniferous forest, wetland, creeks/streams, and a waterfall, the spectacular Choke Creek Falls! The loop consists of three different trails: the Butler Run Trail, Choke Creek Nature Trail, and Pinchot Trail.
The start of the loop is located off of Sand Springs Road (Phelps Road) on the opposite side of the road as the Kellers Swamp trailhead. Sand Springs Road can be accessed from Tannery Road. You can park just up along the road in a pull-out parking area and walk to the trailhead.
Begin by following the red blazed Pinchot Trail. Just a couple minutes into the trail, there is fork, at which the Pinchot Trail continues left, while the Butler Run Trail goes straight. Continue straight by following the yellow blazed Butler Run Trail and crossing a stream shortly after the fork. (NOTE: It's possible to hike the loop in the opposite direction by first going left along the Pinchot Trail and then returning by the Butler Run Trail, but the route suggested here saves the most spectacular scenery for the later part of the hike.) The trail will gradually ascend through deciduous forest.
Eventually, you reach the intersection with the Choke Creek Nature Trail. Turn left and continue along the yellow blazed trail, which will take you through some nice pine, spruce, hemlock forest. You may see some private property notices, but they appear to be outdated, as new land acquisitions have been made by the PA state government for the Thornhurst Tract. The trail eventually meets the red blazed Pinchot Trail. Turn left at this intersection.
This part of the loop is the most scenic, as the Pinchot Trail descends toward the Choke Creek. The heart of the loop is this southern portion along the creek, which forms the border between Lackawanna and Luzerne counties. The trail continues along the creek for a while before turning inward for a bit. From this inward portion, you can get views of a scenic wetland between the trail and the creek. The trail then continues back toward Choke Creek and continues to follow it until Choke Creek Falls. The waterfall itself is about and 20 feet tall and the drop is spread over two steps. The surrounding scenery is particularly nice and consists of pine and rhododendron.
After the waterfall, the trail moves away from the creek and continues inward through a beautiful coniferous forest covered with moss. You will eventually reach the original intersection with the Butler Run Trail, at which point you can follow the final stretch of the Pinchot Trail back to the road.